Tubesnake 3rd CD, This ain't Rock and Roll (2004)
Eighth Line-Up: Lenny (Vocals), Dave Lunn (Guitar), Woody (Drums), Chris (Bass)
Following in the footsteps of Val's review of Tubesnake live at Sleepers last Friday, we have this third offering from the Tube lads, neatly titled 'This ain't Rock and Roll – This is Tubesnake'. And a gimmicky title it certainly is not.
Tubesnake, although turning out rock to be proud of, have the moody, deep man himself on vocals and panache – Len. As Val so rightly noticed in the band's live performance; Len doesn't just sing the songs, he feels them. And although this offering struggles to capture the magic of a live set, it does show just how versatile this band are. And I have full respect for any band who tries to do justice to the Stones' Wild Horses. Cos they will have a long way to go to equal the quality of the Tubesnake version. Worth buying the CD for this track alone, but when you also get such gems as L.A. Woman, People are Strange, Paint it Black, Don't Believe a Word then the CD is one for the collection.
Listen to the CD to remind you of what this band are capable of, but see them live to appreciate how deep this band can be!
… Nige, posted on Riffsonline website, Dec 2004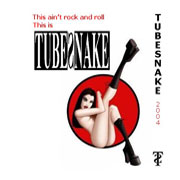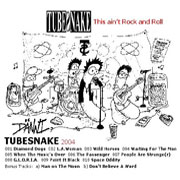 Check out our Audio page for track listing and samples.