The Ropery, Sunderland (Feb 2006)
Friday 10th February
Eighth Line-Up: Lenny (Vocals), Dave Lunn (Guitar), Woody (Drums), Chris (Bass)
Most of you have, or should have, come across Tubesnake over the years on the live music circuit as they were formed way back in 1992 and if you haven't where have you been? Shame on you! Their name is taken from ZZ Top's Tubesnake Boogie and apart from a few line up changes over the years they are now down to four members with a new bass player and it's nice to see they still have a professional attitude, not only to their music, but to their professional show they put on for the audience. In general they never overdo their gigs and that makes it refreshing as they play alternative music not played by other bands which makes them stand out.
The band consists of Chris (Bass): for a small man, and there's no offence here, he plays with such majestic ease that you sometimes don't realise he's there on stage. We mean he looks so calm cool and collected apart from having a bad back tonight he still gave a great backline to each song effortlessly.
Woody (Drums): Boy those skins were beating to the pure artistic rhythm, his bass took to go walkabouts vibrating across the floor during his set, but this didn't stop his artistic flow.
Dave (Guitar/Backing Vocals): The ever present all-talented from White Noise, his other band on the circuit in which he is lead singer, but with Tubesnake he wore his other hat of guitarist, and played like a man on a mission. His fret work was neat and polished and those solos were just pure magic to watch and I was suitably impressed.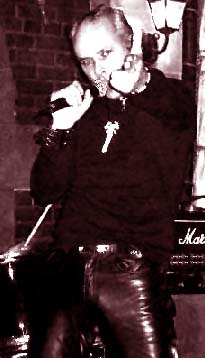 This leaves last but not least Len (Vocals): Mr leather clad showman himself who is so engrossed in his artistry of the vocal seduction that you feel he is just singing for you only. He makes a great front man who shows his energy with vigour. His mannerism and stage presence to each song is a duplication of the original performer.
The set tonight kicked off with a rocky Helter Skelter neatly into Moonage Daydream, Waiting for the Man, Creep by Radiohead, Been Down So Long, Sweet Jane by Lou Reed, but this is one of Tubesnake's own special interpretations, Lizzie's Don't Believe A Word with some neat guitar work, Stones' Wild Horses, Bowie's Ziggy Stardust, Eleanor Rigby, and last in the first set People Are Strange. A deserved break then second set with The Rolling Stones' Gimme Shelter, When The Music's Over, Pink Floyd's Another Brick In The Wall, Stones' Paint it Black, The Doors' Light My Fire, L.A. Woman, and Bowie's Starman to name but a few.
The Ropery is a small compact room but it's one of those pubs that tends to fill up and empty just as quick as it's on the local circuit. Their intention to draw punters by putting live bands on is commendable and long should it continue as bands like Tubesnake are a credit to the live music scene and certainly draw in the punters.
We are in no doubt, and this is shared with many live music supporters, that a band like Tubesnake is a must on your list to see.
… Val, posted on N.E.M. (North East Music) website, Feb 2006