The Daisy Hill, Sacriston (Dec 2007)
Friday 21st December
Ninth Line-Up: Lenny (Vocals), Woody (Drums), Chris (Bass), Tom Atkinson (Guitar)
Some time since we had been back to one of our favourite venues and also some time since we had seen one of our favourite bands. First the venue. The Daisy Hill has obviously been a club so you get the best of both worlds. A seat! but without the hassle of bingo, meat draws, raffles, domino cards etc. It's a friendly venue and two drinks here were less than the price I was paying for one at a famous football ground. There was even a sign saying "Champagne available on request!". Noo ya divent see that in bonny Shields man. The guy who books and runs the gigs (John Bowery) tries really hard and even hoys on a few records at half time. It's a quid cover charge to help towards booking the band, but because the attendance is not always guaranteed they do need help towards the cost.
So then to the band. We first saw Tubesnake back in, well a canny time ago at the Snooker Club in Durham, and glad to say they are as entertaining as ever. Since we last saw them they have changed the lead guitarist and what a little gem they have uncovered. The guy is only 18 but was playing with a confidence and maturity way beyond his age. The guy was totally awesome and in the second half really put on a show.
We like our bands to be a bit rock n roll, have a bit of an attitude if you like, it may be an act and a bit showy but the singer's arrogance and style on stage really works. All the best bands need this cockiness (Jim Morrison, Jagger, The Gallagher's etc.) Lenny in Tubesnake carries it off, not many would, but he has the charisma and singing talent to get away with it.
Highlights were awesome versions of some classics. Eleanor Rigby done in the style Tubesnake have made all their own. Sympathy For The Devil led into some brilliant sidetracking guitar solos that had much of the crowd dancing. Tubesnake's speciality and influence is drawn heavily from The Doors and they did not disappoint here, with a great cover of L.A. Woman, Roadhouse Blues etc. Throw in some Radiohead and even some Stone Temple Pilots and we had a perfect finish to 2007.
Tubesnake do try to go that extra mile and are concerned that a gig should be an experience for them as well as the audience and a few joss sticks and a Jimi Hendrix backdrop added to the atmosphere. The singer has the confidence to tease the audience i.e. not coming in with the vocals on White Room, until what seemed like an eternity. He's pretty unpredictable and that added to the gigs charm. A great night was had by all.
… Paul & Bernie, posted on DavysRockPage website, Dec 2007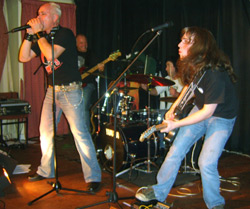 Tubesnake were back for a pre-Christmas gig and as I expected the place was packed. Always a very popular rock band around here, they went down a storm. Guitarist Dave Lunn has of course departed and his place has been taken by new kid on the block, Tom Atkinson. He is just turned 18 and is a great talent. I recognised him from a band I saw at Crook Footie Club who were supporting John Ottway. He possesses showmanship, flair and plays it behind his back at times, and he fills in the post Lunn era very well, a real prospect. Lenny retains all of his charisma, vocally and visually he is every bit the rock of the band. Poor 'ole Woody on drums pointed out to me during set up that the roof was leaking. Indeed it was, though very slightly. Anyway, we will see how things turn out. I'll see if I can book Wet Wet Wet, or the Waterboys. A great night by a very good band. Ps. Two dates fixed for 2008 for Tubesnake.
… John Bowery, posted on TheDaisyHill website, Dec 2007