The Pemberton Arms, Seaham (Nov 2007)
Friday 23rd November
Ninth Line-Up: Lenny (Vocals), Woody (Drums), Chris (Bass), Tom Atkinson (Guitar)
Although we have invites from The Beer Monkeys, The Source, Fizzyfish, Bullet and Loaded 44, for some reason tonight I was in a Tubesnake mood. I've known Len and the lads for many years now and the quality of their musicianship is well known throughout the north east. Nige hasn't seen the band for over three years and for me it's been about a year. So it was off to the Pemberton Arms we trundled and this time we took the right road and got there in plenty of time – plenty of time to down some JDs. I had a chat with Len within minutes of arriving and it's nice to see he hasn't changed a bit. Unlike the set which had changed – with the inclusion of a bit more funk. Thankfully, though, they have kept in the songs they are renowned for and the new songs have given the set a more overall funky feel.
I noticed a new face in the band and this was Tom who now plays lead. Tom plays in Victims of the Fury and although just a tender 18 he certainly knows his stuff. Len has someone to feed off now and they could be the visual twosome at the centre of the band.
But that's not dissing either of the other two: Drummer Woody I noticed tonight really is vicious with his kit enabling some of the tracks to really stand out. Namely Paint it Black which came over extremely raw and attacking. I loved that one. And it's this era – the Sixties and Seventies, from where Tubesnake snatch most of their songs – and influence.
Chris on bass may not be the most animate of guitarists but his solid and consistent bass line sets the feel for so many of the songs. With Chris and Woody as solid backing how can Len and Tom not be successful at laying down some superb vocals and searing guitar? Well, actually, they could quite easily, as I have seen in so many other bands but let's face it; Len is perfect at what he does. He sings sensuously, seductively, and moves just the same. Whatever it was he queued up for they gave him double – and then when no one was looking they gave him another portion.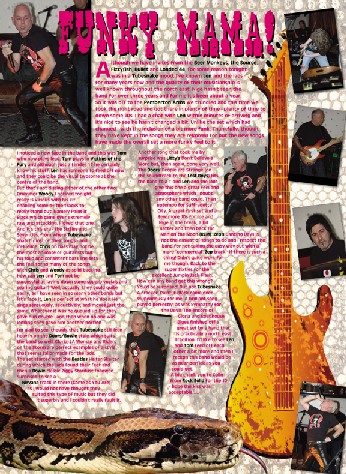 I'm glad to see, though, that Tubesnake still lean heavily on the Doors/Bowie style which suits the band so well. G.L.O.R.I.A., L.A. Woman and Riders on the Storm are perfect examples of a style that seems tailor-made for the lads. The set started with The Beatles' Helter Skelter during which the lads found their feet and then a Bowie classic Ziggy Stardust followed. Surprised to see a Nirvana track in there (Come as You Are) as I would not have thought they suited this type of music but they did it superbly and I couldn't really fault it. Another song that took me by surprise was Lizzy's Don't Believe a Word but, then again, done very well. The Doors' People are Strange (on the soundtrack to the Lost Boys) fits the band to a T and Len and the lads give this one a great feel and atmosphere which I doubt any other band could. Then up-tempo for Suffragette City. A great first set and a few more JDs for me and Nige in the break, a bit natter and then back for Man on the Moon (REM). Zep's Dancing Days is not the easiest of songs to do and I respect the band for not taking the easy way out with a more "commercial" Zep track – if there is such a thing! Didn't quite work for me though. Back to the super Sixties for the excellent Jumpin Jack Flash. How can any band get this wrong? You'd be surprised! But not Tubesnake. A cracker. Paint it Black came over stupendously for me. A brilliant song played perfectly; as was Sympathy for the Devil. The encore of G.L.O.R.I.A. and Roadhouse Blues finished off a great set by a band that is practically a north east tradition. I'd like to see Len and Tom feed off each other a bit more and then I reckon this band would be as near perfick as you could get.
… Val, posted on Riffsonline website, Nov 2007