Natural Highs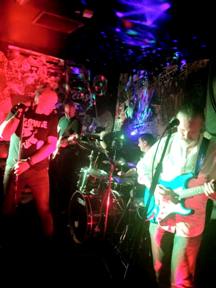 Well that was downright dirty, hot and sweaty and as the midnight hour approaches it's time for us to unwind in our seperate abodes with a beer or a glass of red and reflect on what has just taken place.
It has to be said we've had two great gigs this weekend. Firstly, The Market Tavern in Chester-le-Street last night, Friday 18th September, was very well attended by a crowd who certainly were 'into it'. A great vibe pulsed through the room all night generated from a mixture of old and new faces and left us feeling we'd all had a great gig. Cheers, Chester-le-Street!
Tonight, Saturday 19th September, we've just played The Angel in Durham City. Last night was great but tonight was tremendous. From 9pm through to our encore at 11pm with a short break in the middle, the atmosphere was excellent. We juggled the set so it wasn't just a repeat of The Market Tavern gig. The place was packed and we had them dancing from song number one.
We always enjoy performing but having audiences like that is what takes us to another level. We know it's only Rock n' Roll but we like it!
« Tubesnake: Spanish Caravan / People Are Strange (Live)