Bringing It All Back To The Beamish Mary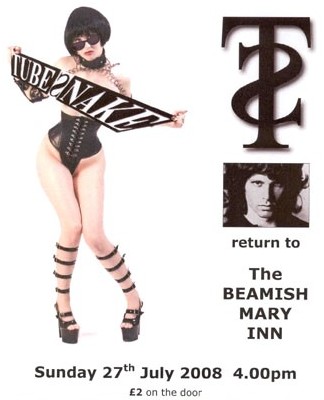 The Beamish Mary Inn in No Place, Stanley.
Historically, this pub is known for great food and real-ale (won many awards) and, at one time, for being an excellent MUSIC VENUE with bands twice a week.
Music has not been a real feature at The Beamish for quite a while now, with just a handful of gigs over the last few years, typically organised by the bands themselves (us included). However, the venue now hopes to re-introduce regular gigs each Thursday and Saturday night, the way it used to be for over 10 years. This may take a little while to establish but we've offered our support to this favourite venue of ours that has hosted Tubesnake from its' first line up back in 1992 through to our last gig there in December 2007.
They're looking for bands for THURSDAYS and SATURDAYS only, starting from Saturday 2nd August 2008 up to the end of the year.
Because this is just getting off the ground – the pub will pay £50 to add to whatever you take on the door (we're putting £2 on the door), this of course should improve if bands start playing there regularly.
We've already committed to a few gigs for 2008 opening up with a special Sunday afternoon gig there on 27th July at 4pm.
« Hounded