Strange Brew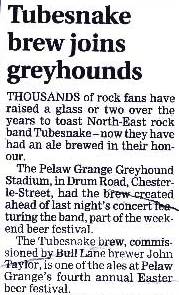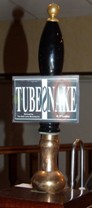 Thousands of rock fans have raised a glass or two over the years to toast the exploits of North East rock band Tubesnake but now Pelaw Grange Greyhound Stadium have had a Real Ale brewed in their honour.
Lead Singer and founder member of Tubesnake Lenny Mustarde is delighted at having a beer named after the band.
'It will be cool to see a hand pump with our name on it and hope the taste is as good as our music! Pelaw Grange Stadium is the first Greyhound Track we have ever played at and we are all really looking forward to it.'
The 'Tubesnake' brew, specially commissioned by Bull Lane Brewer John Taylor, will be one of twelve real ales on sale at Pelaw Grange's Fourth Annual Easter Beer Festival that starts on Thursday 20th March. On Good Friday 21st the Tubesnake fans can sample the band's honorary ale ahead of the gig that starts at 9pm in the concert room.
… Graeme Henigan, Pelaw Grange Greyhound Stadium.