Pity Me Woodstock II … It Rocked! You Missed It!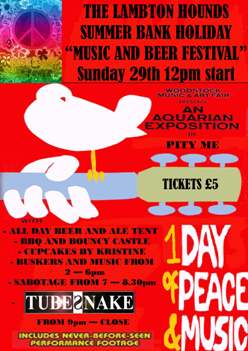 Following on from The Lambton Hounds Open Air Rock Festival on the bank holiday weekend of August 2009, which became affectionately known as Pity Me Woodstock, the pub has decided to re-host the event this year on a slightly smaller scale.
Last year featured Ha'Waysis, Bad Lashes and Victims of The Fury who each played on a trailer in the car park. Due to the ensuing torrential rain, Diamond Dogs and Tubesnake played their sets indoors.
This year, various acoustic players will perform in the beer garden over the course of the afternoon. If the weather fails, this will occur indoors. The evening will be filled by two live bands playing inside the pub. Durham band, Sabotage will kick off around 6.30-7pm for an hour and a half playing covers from the likes of Kasabian, Primal Scream, Stone Roses, The Strokes and more. Tubesnake will then perform two full sets from 9pm until late.
The whole event begins at noon on Sunday 29th August 2010 and also features a selection of Real Ales, BBQ, a Cupcakes stall and bouncy castle for the kids.
Tickets at £5 are available from the pub or you can pay on the day (kids free).