Stormin' The Castle 2010 Main Stage Line-Up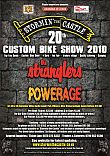 The full line-up of bands for the 20th Anniversary Stormin' The Castle is now sorted.
On the Main Stage, Friday 3rd September, Mother Earth open the proceedings, followed by Tubesnake, then The Force and closed by head-liners Powerage.
On the Main Stage, Saturday 4th September, the opening act is Radge Against The Machine, followed by Voodoo Six, then The Pistoleros and finally this year's main head-line band The Stranglers.
For ticket information check out the Stormin' website: www.storminthecastle.co.uk