Tom's Next Guitar?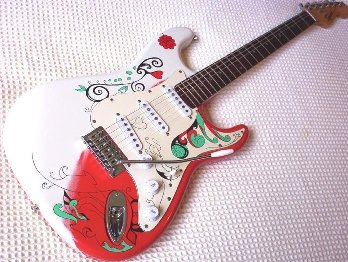 It's a replica of Hendrix's one he used at the Montery Pop Festival, the one where he does Wild Thing and burns the guitar. The guitar's specs aren't the same 'cos I don't like them the same – different neck. But it's canny for £500. The guitar they use to make 'em is a Mexican Fender, that'd cost about £300 in any case. Hmmmmmm!? Maybe! … Tom
Hendrix at Monterey Pop Festival 16 June 1967
At the request of Paul McCartney Hendrix was booked to play. He was still largely unknown to the American audience but his performance went down as one of the most explosive and spellbinding performances of his career, not least because of the finale of Wild Thing, where he set fire to his guitar with lighter fuel. Hendrix vowed that he would 'pull out all the stops' after following The Who's set.