Stone Temple Pilots Reunite For Ohio Festival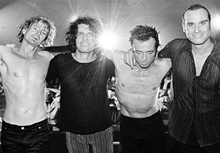 The Stone Temple Pilots reunion will touch down for the first time at the Rock on the Range festival, to be held May 17-18 2008 at Columbus, Ohio's Columbus Crew Stadium (USA). Rock on the Range will be Stone Temple Pilots' first show in more than seven years. Frontman Scott Weiland recently entered rehab but is expected to be ready to return to the road in time for Rock on the Range. Other STP shows have yet to be announced.
If anyone's got any spare cash (Yeah Right!) Tickets go on sale February 23rd 2008. VIP packages are available that include hotel, merchandise and other perks.